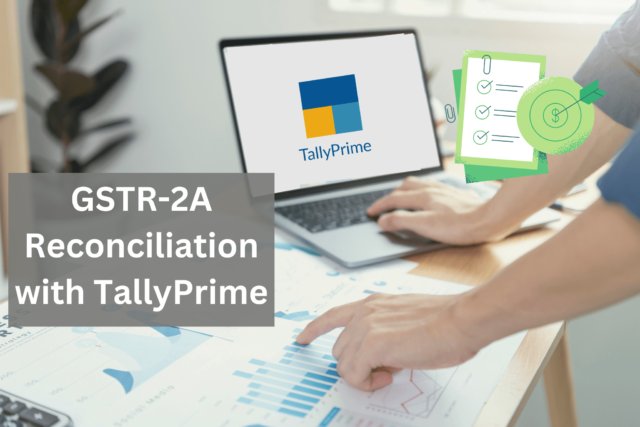 With the launch of TallyPrime Release 3.0, we now have the availability of GSTR-2A Reconciliation
This is alongside numerous other features which are now available in TallyPrime. You can read our Blog: What's new in TallyPrime Release 3.0
GSTR-2A Reconciliation with TallyPrime
The experience of reconciling your transactions in GSTR-2A with the transactions of your suppliers is further simple. This ensures that the information in your books matches that on the GST portal. Moreover, the facility to identify potential matches to unreconciled transactions in your books aids to the ease of the reconciliation process.
You can now:
Import GSTR-1 or GSTR-2A even in JSON files, apart from MS Excel and CSV.
Reconcile transactions:

After importing the Supplier's transactions downloaded from the GST portal.
You can do so even if the transaction are from a different Return period by updating the
Return Effective Date.
By specifying the threshold limit of mismatch.
By ignoring prefix of zeros or special characters in the document number.
By configuring prefix used by a party in Document No. or Invoice No. to be ignored for
reconciliation.

Manually mark the status of transactions as Reconciled or Mismatch, as needed.
Track reconciled transactions that are modified later.
Consider the Supplier's Invoice No. and Date as Document No. and Date for reconciliation.
What's more, for transactions that are on the portal and not in books or vice versa, TallyPrime helps you identify those with matching values but different document numbers, party GSTIN/UINs, or sections of the Return. This further helps you speedily reconcile the transactions.
Watch this short video as we walk you through the features of TallyPrime Release 3.0  
[email protected] is a Tally Certified 5-Star Partner since 30-years and has assisted thousands of businesses enhance efficiency with Tally
To know more about GSTR-2A Reconciliation and TallyPrime Release 3.0, call us on 7303030000 or email at [email protected]