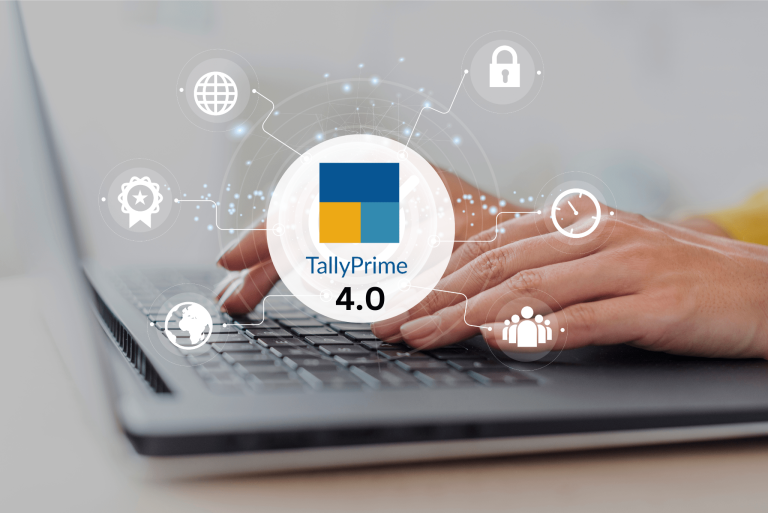 TallyPrime, introduced in December 2020 as the successor to the previous Tally.ERP9, has seen continuous improvements and updates, including the addition of features like Multi-GSTIN, Audit Trail, Digital Signature, E-way Bill, E-invoicing, and more.
Tally now brings us TallyPrime Release 4.0! So what's new?
Business Dashboards (Visual tool) 
TallyPrime's Dashboards are a robust tool for user-friendly business data analysis. Besides the default Sales and Purchase dashboards, you can create customized dashboards to fit your needs. Add various reports as individual tiles, configure them to your liking, and interact with the data. Whether you're a business owner, finance manager, or consultant, Dashboards empower data-driven decisions, facilitating growth and success. Use graphs and charts within the tiles to track cash flow, revenue trends, expenses, and gain a comprehensive view of your financial status and ledger balances for specific timeframes.
TallyPrime's Dashboard feature provides the following benefits:
Customize the dashboard by adding or hiding tiles, configuring each tile independently, and selecting data points, among other options.
Control access to dashboards based on user permissions. Users with restricted access won't see specific tiles on their dashboards.
Create multiple dashboards for different purposes, organize tiles as per your preferences, and save your customized views.
Set a dashboard as your default home screen when opening a company in TallyPrime.
Easily print, export, and share dashboards with stakeholders via email or WhatsApp.
Recognizing the vital need for smooth and efficient communication between businesses and their associates, TallyPrime Release 4.0 introduces the capability of instant communication through WhatsApp for Business. This allows you to leverage technological advancements and enhanced communication experiences that are prevalent in the market.
With this feature, businesses can effortlessly dispatch documents directly from TallyPrime to one or multiple parties or stakeholders with a single click. Imagine you've just finalized your quarterly financials – you can promptly send digitally signed financial statements to your investors and essential stakeholders via WhatsApp. Likewise, you can transmit invoices and reminder letters to your associates through WhatsApp and receive their responses in real-time, greatly aiding cash flow management.
For businesses in India, domestic associates have the added convenience of clicking payment URLs within invoices and reminders sent via WhatsApp to make immediate payments. WhatsApp is seamlessly integrated into TallyPrime, enabling you to register with WhatsApp for Business directly from TallyPrime and transmit documents to one or multiple parties or stakeholders at once. While TallyPrime still maintains the option to send documents via email, you no longer need to worry about when the recipient will view their email and take action.
Excel to Tally data Import
Entering a large volume of data manually can be a nightmarish task for any business. It's not only time-consuming but also prone to errors. To tackle this challenge, TallyPrime Release 4.0 offers a smooth data import feature from MS Excel, complementing the existing option to import XML files.
Here's what you can expect:
Easily import both masters and transactions from Excel.
Utilize any of the default templates or sample Excel files provided.
Take data from any Excel workbook and map it to fields in TallyPrime, regardless of its format or order.
Detect and address import errors by referring to the logs generated during the import process.
There are also various new product improvements introduced. They include:
1. Printing Previous and Current Balances in Invoice
2. Party GSTIN/UIN in Input Tax Credit Available Section of GSTR-3B When you drill
3. Exporting GSTR-3B for a Quarter in a Single JSON File for QRMP Dealers QRMP
4. Updation of GST Amount After Overriding GST Rate
5. Vouchers Recorded for Import of Services in GSTR-3B
& many more
Software@Work is a Tally Certified 5-Star Partner since 30-years and has assisted thousands of businesses enhance efficiency with Tally
To know more & to upgrade to TallyPrime  4.0, call us on 7303030000 or email at [email protected]