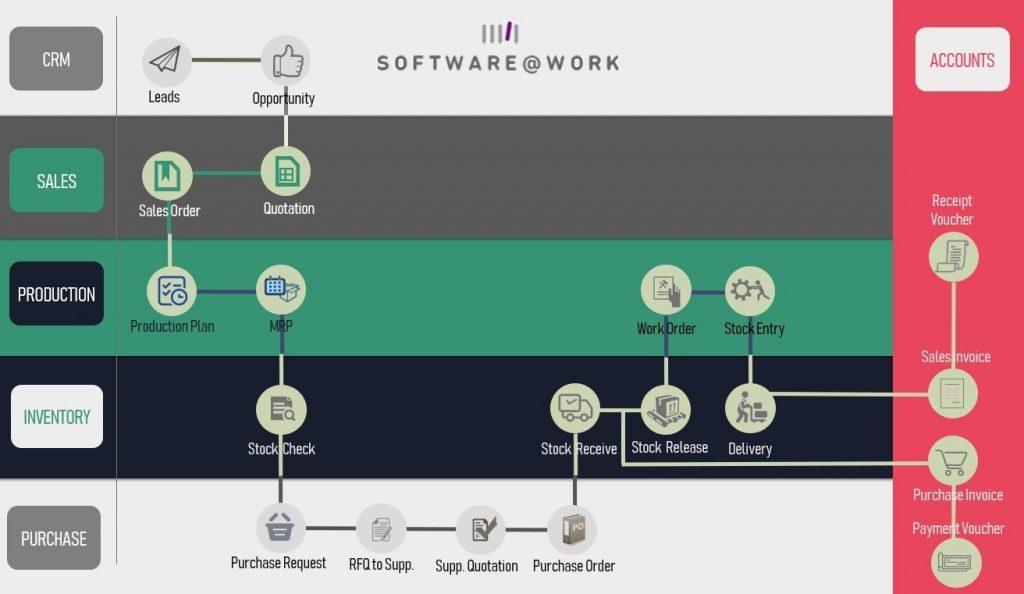 One integrated business software (usually termed as ERP) can run your entire manufacturing operations. However, ERP has been historically known to be costly and hence only used by large organisations . Small businesses have had to rely on cumbersome spreadsheets and disconnected applications that hamper their growth.  (Read our Blog –  6 reasons why  Small and Medium businesses don't make use of free /affordable and integrated business apps ) .
Most Small & Medium businesses don't invest in an ERP since they feel they don't need it.  They miss the point that at the cost of one data entry operator they could get an ERP to run their business efficiently ,save time , eliminate duplication and the resultant manpower.
Our mission is to make affordable ERP's available to Indian SME's – so that  they  can continue to grow and remain an important contributor to their own and the  country's progress.
A typical manufacturing ERP flow consist of certain modules which in turn consist of certain number of forms.
The modules can be listed as
CRM & Sales
Manufacturing
Purchase
Inventory
Accounts
Let us go through each module one by one and try to understand the workflow that converts raw material into required finished goods.
CRM & Sales: This module primarily deals with presales activity where in a customer details are entered in the system and registered as lead here all the activities performed on this account can be recorded as per date and time. This helps in maintaining the entire communication history between client and the salesperson front ending the organization. If any enquiry is received from an account, then it is recorded against that lead as an opportunity and with embedded communication tool  a quotation can be sent to customer by referring to concerned pricing list this quotation once approved and received back in form of a Customer Purchase Order (PO) can be entered as Sales order(SO) in the system.
Production: Sales order can be prerequisite document to start execution of Order based manufacturing, the production module begins with Production plan where all planning is done on two options, viz

Produce all sales order quantities from 1 customer
Club single item quantities from multiple sales order and produce it on single assembly line
Production plan consists of date filter for sales order and hence can be as specific as required.
Post planning, Work orders are created as instruction to floor about what and how quantities to produce. Here Finished goods items are exploded as per their respective Bill of material to estimate if all the required raw materials are available to proceed with production or raise Material request to procure it well before production date. From Material request it is taken into Purchase Cycle listed as point no. 3 below.  Once all raw materials are  available, the  Work order can be further converted into multiple Job cards based of the work centers mentioned in bill of material. Each Job card is closed as and when work is performed on particular work center and in turn Work order is completed with total quantity of finished good produced with scrap material generated.
Purchase: This module begins with Material Request and converted into Request for Quotation (RFQ) to supplier. With an in-built communication tool this RFQ is sent to multiple vendors in a form of link by email and by clicking over it, same form is loaded on vendor's screen enabling them to enter the rate of items listed in RFQ. The price registered by vendor is saved in the system as Supplier Quotation. Hence the entire paperwork between buyer and vendor can be eliminated and processing time can be reduced drastically by incorporating the document approval system or workflows as per company's policies. Based of Supplier quotation the Purchase order can be generated, approved and sent to concerned vendor through system in form of an email.
Inventory: Inventory module consist of most important Item Master in the system. In Item master location wise inventory/ stock levels are maintained and can be monitored. Each stocking item can be managed with Minimum and maximum order level. Once an Item level hit its minimum count set in system, the software generates a purchase request and save it in draft format for approval. With this, stocking items are never out of stock and their procurement lead time can be managed as well.
Continuing from our previous Purchase cycle, against Purchase order (PO) the items are received by the client and registered in the system as Stock Receive, this stock receive can be sequenced into batches and saved with unique serial number to track movement of these materials. Inventory module also accounts the stock entry at various scenarios as,
Material release from store to floor for manufacturing
Material release for subcontracting
Material produced as per work order (Finished Goods)
Material receive at store
Material converted into finished good updates its relative stock level and if match the sales order quantity then it is set for dispatch to client by generating a Delivery note from the system
Accounts: After receipt  of raw material, Purchase Invoice and Post-delivery of finished goods, Sales invoice  can be generated from the system adhering to tax compliances of residing country. Thus, Accounts payable and receivable can be managed in the system by releasing respective vouchers as the amount against these invoices are received or paid.
At each transaction level, a silent accounting entry is passed into system hitting the preset chart of account and ledger thus, reducing the workload of accounts department in passing Journal voucher at each stage to transfer valuation from one account to another.
All the above operations can be managed by one integrated business software (usually termed as ERP). However, ERP has been historically known to be costly and hence only used by large organisations (Read our Blog –  6 reasons why  Small and Medium businesses don't make use of free /affordable and integrated business apps ) . However, in this era of free and affordable business apps, SME's too can get such business software for a price less than  what they spend monthly on tea and snacks for their staff.
With the right software for your manufacturing business you can reap many benefits such as :
Managers  can access information they need on their smartphones or tablets wherever they are—at home, or the factory floor, or in a customer meeting—to respond immediately  to customers
Managers can  subscribe to real-time notifications about key business activities like production orders, customers, inventory, invoicing, or whatever else is relevant for them
The software can  automatically guide  employees to use  best practice processes or pre-set steps so that they do not have to remember what's to be done next , for example, PO / RFQ worlfkow, Indent approvals process , Minimum order requirements, customer notifications etc
You can  offer real-time visibility to  your suppliers, partners, and customers, by allowing them to access their own information via Customer/ Supplier portals where they can place orders, send RFQ's or view their invoices and payments
You can ensure that information &  reports are always available,  reliable , created from the right data and can only be accessed by authorised personnel
Connect with [email protected] on [email protected] to get a free consultation on how your business can grow with the best business software apps at prices that will pleasantly surprise you.