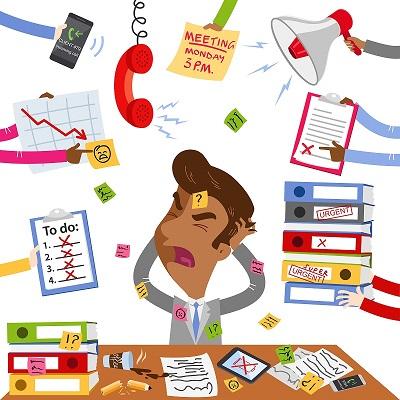 It comes as a surprise that any growing organisation would be using  outdated or disconnected business software that would make day-to-day operations and growth a struggle (Check out our blog  "10 reasons why you should run your entire business on one software")
Why should one organisation that works as a team and needs to share data,  have multiple apps to run its operations? An integrated business software is like the digital nervous system for a business  without which the organisation would not be able to function effectively  (See blog …..)
The simple fact is that is without a proper business software, the  management will  struggling to run the day-to-day operations rather than focus on growth. (Read our blog titled 12 signs that you have outgrown your current software
However, its true that a large number of such businesses do not use an integrated business solutions or ERP's.  They continue with spreadsheets or disconnected business software.   6 top reasons why SME's use disconnected or outdated software is as follows :
1. Cost & Benefit
Perception : Its usually understood that spreadsheets or disconnected business apps are cheap and easy to  use. There is not much of a learning curve and each department can make its own spreadsheets or buy small apps.. Users assume that connected business apps or ERP's are costly to buy
Reality : The hidden cost of having multiple and disconnected operations is definitely high. The cost of duplication of entries, the  non availability of consolidated and accurate info, the security and privacy of data etc are huge issues. Such organisations are virtually under the control of their data entry operators  since are no defined workflows and visibility . We are in 2019 and technology is all pervasive. It is also getting cheaper. Today an organisation can get an integrated business software or an ERP  that runs its entire business for less than the cost of its monthly tea bill. Is that not affordable ?  In fact , some ERP's are also available for Free and there is no license price to pay for them.  Once only needs to pay for any optional services that they may require.  By using disconnected apps, the possibility of duplication of data is high and the cost of such duplication and inefficiency is much higher than the cost of a
2. Complexity
Perception : Business users  usually believe that integrated business apps or ERP's are  complex to find, setup, use and maintain
Reality : With the advent of the cloud, there is no hardware or infra required to get started. It's  never been this easy !  Business apps are now easy to use and require virtually no maintenance or IT resources.
3. Lack of awareness of the  availability of free and affordable business apps & ERP's
Perception :  Business that can run my entire business is costly  and there is no such things as free software and that if its free there is some catch
Reality : The reality is out there. So many business applications are free to use or to start with.  Messaging apps like What'sApp are  free to use.
A simple search on Google shows a sample of some of the world's leading apps that can be used freely:
Best for general productivity: Evernote, Wunderlist, Pocket
Best for time tracking: RescueTime, Toggl, Eternity Time Log
Best for project management: Basecamp, Trello, Asana
Best for team communication: Slack, Stride, Skype for Business
Best for customer relationship management: Streak, Insightly, Nimble
Best for accepting payments: Square, PayPal Here, Dwolla
Best for accounting: QuickBooks Online, Freshbooks, Wave
So what about India…are they free business apps and ERP ? Yes ! There are…but business owners usually do not have time to spend on this  since they are busy  running their businesses.  (We'd like to share a secret here. If you want a free ERP then send us an email on [email protected].  But please keep it a secret ! 
 )
4. Ignorance or  lack of expert advice
Perception : Users are usually  so occupied with current work-load,  that they usually do not have the time and inclination to look for a better solution. Even if they try to look, they are challenged with multiple offerings and do not trust pushy salespeople (who usually have high sales targets).
Reality : While it is understandable that a business owner is occupied in running his business, its also true that with the advent of the internet, information is easily available to use. While it may be easy to do a quick search on Google and call a few vendors for presentations, that usually not the best way to identify the right software (See our Blog  "Your next ERP could be a disaster").  Expert advice is also available without charge for an initial assessment of needs. If fact, this challenge of SME's not having technical expertise to find and setup business apps led us to the creation of SoftwareHunt.in – a service to help growing organisations find the right apps based on their needs. We are glad to understand the challenges of an organisation and propose a solution.
5. Availability of adequate and cheap labour
Perception : Since manpower may be easily available, businesses are okay with keeping un-necessary / extra manpower at hand –  to take care of duplication of efforts and unorganised processes
Reality : Labour is not cheap anymore . Putting more manpower instead of technology is a costly affair. The lack of processes, duplication of efforts and dependence on manpower can result in unseen losses for any organisation. Moreover, reports generated manually on Excel sheets cannot be relied upon
6. Resistance from users
Perception : Users resist change and are comfortable using software that allows them to change data and when they please and share it whom they please. The management needs to depend on such users for reports and this gives them more importance. Many older businesses continue to run in ways they have been over the past decades. They assume that this is the best option since their staff have a comfort level with their existing systems and are under the impression that the software that has been running since so many years is still relevant and fit for them .
Reality : Data is one of the most valuable assets for an organisation . Customers are expecting more and competitors are doing more.  Continuing to use outdated systems  can threaten the very existence of an organisation.  Without proper processes, controls and systems in place, there is a very good chance that an organisation will not grow .  Data entry operators  like the  flexibility of making changes  to transactions as they please. This this is very harmful for an organisation since valid and accurate  information is never available.  ERP systems remove the dependence of report creation on data entry operators and that's something they don't like. Hence it's up to the management to put their vision into practice an ensure that robust systems with approvals, workflows and notifications  are in place to get access to quick and accurate information.
What are the signs that your business is struggling to run and grow ?
Here are a few :
Sales orders are paper based and re-entered 3 times by different departments
Customer database is sitting in Excel sheets
Sales people have no visibility of customer orders, receivables and sales analysis
Accountants make duplicate entries into their accounting software for orders, customer invoices
Sales people are wasting time collecting outstandings and doing other non sales related activities instead of focussing on sales and building customer relationships
Production department does not have visibility of sales orders received
Stores does not have accurate inventory and items below reorder level
Management does not have accurate sales forecasts to plan production
Business owners are making cost and profit calculations using guesswork or incorrect data
Transactions are being altered freely by data entry operators even after reports have been submitted to management or auditors
Auditors are getting incorrect data and thus filing inaccurate returns due tome time pressures
The shop floor has not clue on what are the production plans for the current week
The business owners are struggling to  run the day to day operations rather than planning for growth
[email protected] is dedicated to helping growing businesses make use of affordable and integrated business apps that can help them become more efficient and productive. Connect with us on [email protected] for a free consultation