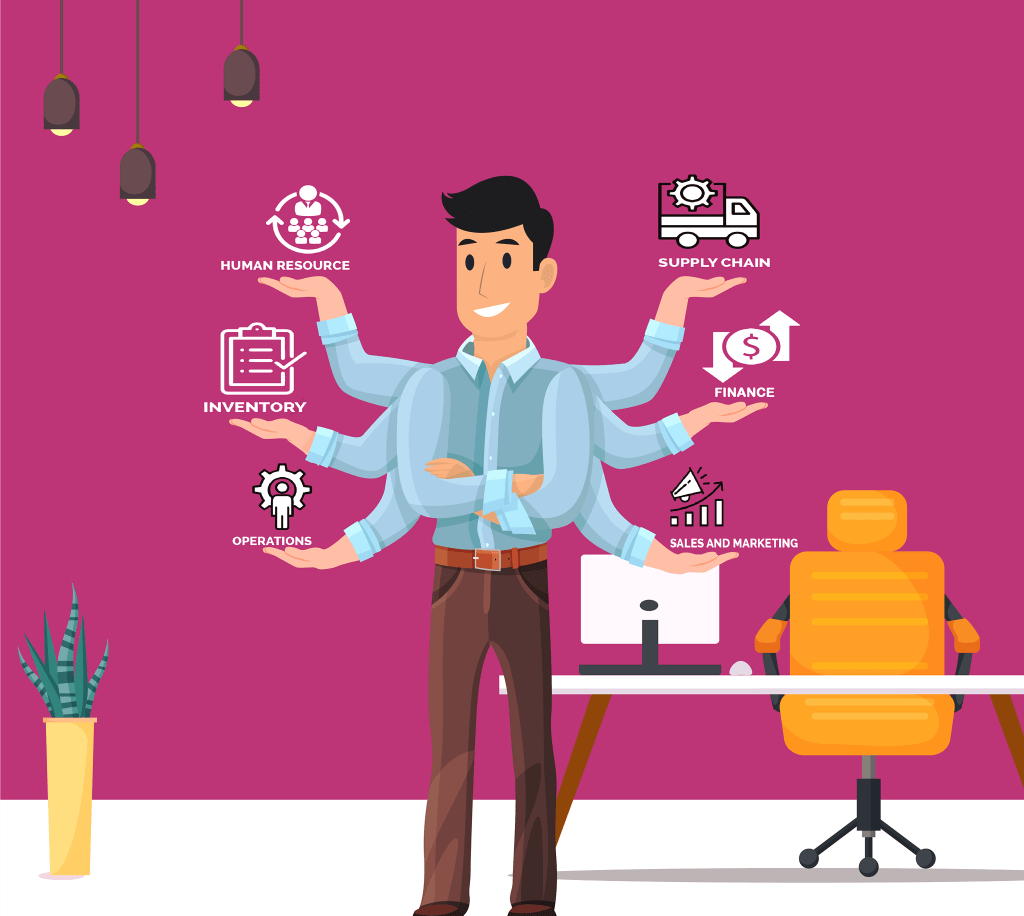 For decades ERP had been only for large enterprises with huge budgets. On this MSME day 2019, [email protected] is pleased to announce the launch of it's offering SMERP – Small and Medium Enterprise Resource Planning software – that helps SME's get the best ERP's at affordable prices
Many SME's have been forced to run their business inefficiently using  spreadsheets and disconnected apps . All due to the high cost & complexity of ERP.
But it's time …..
They have an integrated business software that can manage all their departments including Sales,  Production, Stores, Finance, Customers, Projects  and  HR  at an affordable price
They don't need to run their business on guesswork
They don't need to waste efforts duplicating data entry across departments and hire excess manpower
They can be assured that their software will grow or adapt as per their changing needs  and that the data is secure and  accessed only by authorised employees.
They can provide great service to their customers by knowing them and ensuring timely delivery of orders
They would have accurate information on costs , revenues , inventories and other key  business parameters.
What is SMERP  and how does it differ from  traditional ERP ?
SMERP is an initiative launched by [email protected] to make best in class ERP's available to SME's at affordable prices.  These are best in class applications successfully running at 100's of client sites and developed by well know companies.
SMERP = Assistance in diagnosis of needs + Affordable ERP +  Affordable implementation services
In this era of SAAS (Software as a Service) it's great  to have ERP as a Service too.  It's time to say goodbye to costly ERP and have access to the best business apps that are affordable and rapidly deployable
A brief comparison is as follows :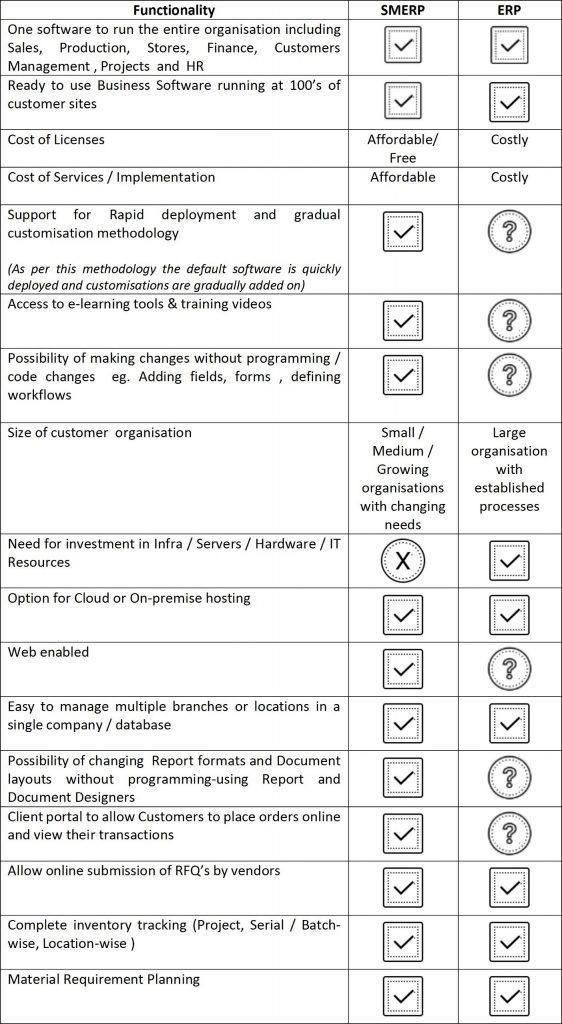 Note : The above list is indicative of some of our solutions but can change based on your requirements
What is the cost of  SMERP  ?
The cost of  SMERP can be as low as the amount you spend monthly on   tea & snacks for your  employees. Yes – it's that affordable.  Specific pricing would depend on your needs and expectations but would remain affordable for an SME. That's why we are calling it SMERP !
Is there a catch or some fine print  ?
There is no catch. For any business that approaches us, we first do a basic needs analysis, and thus an investment in time happens from our side. If we are able to match your  needs, we would  quote for the software and services.
How will I know whether the SMERP will fit my needs and give me the desired results  ?
Traditionally, buying an ERP requires the customer to ensure that they have done a detailed evaluation of their needs and found the right match. This is itself an intense exercise which is unfortunately taken lightly.  After a high initial investment on licenses and services, customers  have to keep their figures crossed about  getting the desired results probably 6 months later. In  fact this is the biggest reason for SME's not confidently investing in ERP.
[email protected] does not promote any one  single SMERP and works as your trusted advisor to enable you to diagnose your needs and make the right choice from the best available SMERP's. Hence you are sure of a solution backed by 27 years of experience and not just another software
We go a step further and walk the talk. We offer to do POC's (Proof of concept) or Conference Room Pilots (CRP) to take you thru a cycle of key transactions with  your own  (sample) data . This service is provided at a reasonable cost and can be done within appox 7 to 10 days. . Hence you would be very clear of the results and solution-fit even before you start implementing the SMERP within your organisation.
What do I to next ?
Send us your challenges on [email protected] and we'll come up with a solution. If you'd like to talk to us, feel free to call us on 02248934040
Click here to check out our video on how ERP can help Small & Medium sized manufacturers