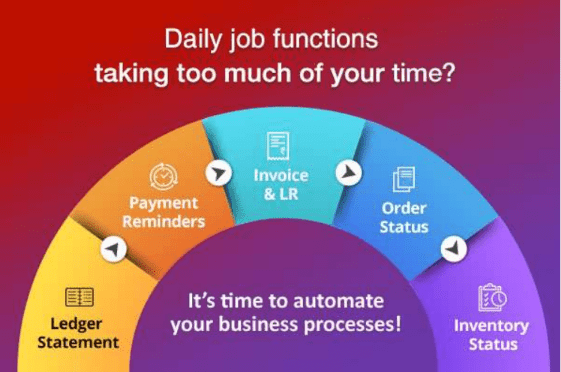 In the B2C (Business to Customer) space, many customers are now adept at placing orders on portals like Amazon. But its seen that in case of B2B (Business to Business) transactions, many SME Manufacturers and Distributors do not use this technology and continue to take orders and communicate thru emails and What's App messages which are highly inefficient and prone to errors .
With the availability of affordable software solutions, it's a great time to give up outdated processes  and duplication so as to increase business without adding manpower . Image how  it would be to have an Amazon or Flipkart like site and App to take orders from your customers at a cost that can be recovered immediately by reduction in cost of manpower, increase in efficiency and customer satisfaction !
B2B transactions typically flow as follows :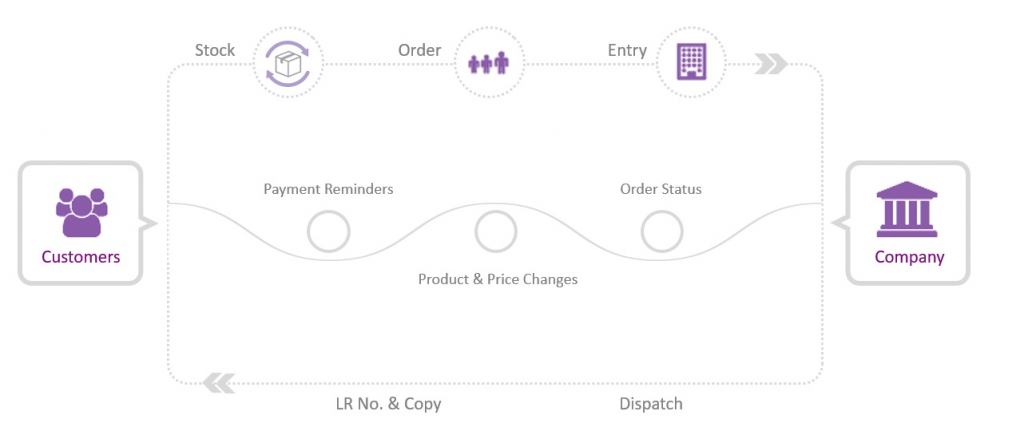 During each of the above processed, there are many emails, messages and phone calls exchanged between buyer and seller to get stock updates, delivery updates, payment updates etc. This wastes a lot of time and effort both sides. Image a Manufacturer who has 100+ distributors and has to employ 3 to 4 people just to take calls and manually input orders.
Typical  challenges of a manual order to cash process :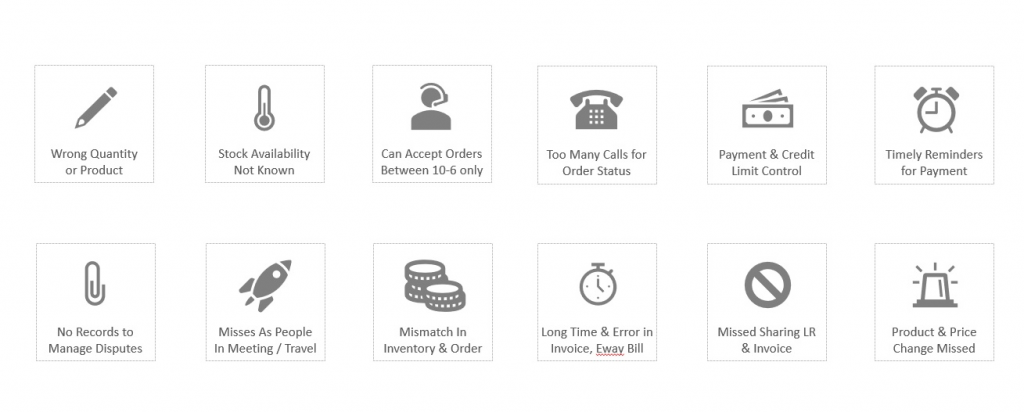 With the right software, all these challenges can be eliminated. An Web and mobile app that enables a the seller to handle the order to cash process smoothly with these benefits :
Let's look at the main reasons why your Manufacturing or Distribution  business can benefit from this type of software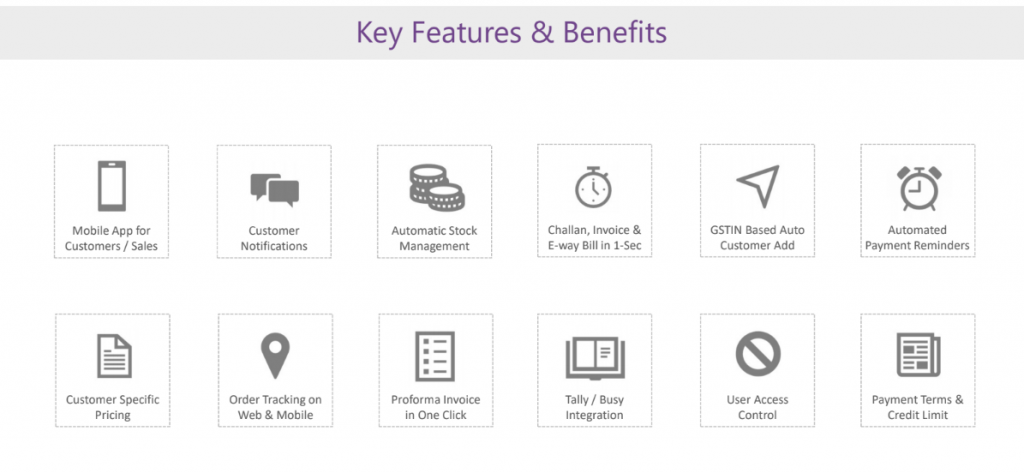 Your business is online
With a web site and mobile app, get all your products online with complete details including pricing, stock, size, color etc.
Live status of stock and dispatches for your sales team and customers
Once orders are received, your team and the Customer can keep track of stock in hand and status of dispatches. No need for phone calls.
Give control to your customers with real-time updates
Your customers get full control on their orders with their mobile app. They can place & cancel orders, check order status – 24×7 without bothering your team members
Customer specific pricing
Setup separate prices for different customers as you want. Enable slab prices and discounts.
Real-time Updates to Customers
Your customers will love to see real-time updates on the progress made with their order. And guess what – you don't deploy any person to specifically do this. Happens on its own
Click generation & printing of delivery challan / pick list with accurate information of customer, shipper, product & quantity. Its quick, easy with no room for any error
Multiple Warehouse Dispatches
You can choose to dispatch orders from multiple warehouses – in same city or across cities. And to your benefit, the system automatically takes care of generating GST complaint invoices basis the warehouse chosen
Common Tracking for Everyone
One common platform for you, your customers, sales, production, warehousing & dispatch team members to view, update, analyze everything about products, customers & their orders
Ready-to-use, online invoicing system (no download required), which is fully compliant with GST regulations. By the way, it also handles Reverse Charge (RCM) cases well
Tally Integration Customer, SKU, Orders, Receipts & Invoices – All in Sync Every important element related to sales, customers & products is in perfect sync
Also, use Analytics and Summary & Trend Reports to understand your business better.
Get concise summary reports for a top-level view of the business. And when you want to analyze data in detail, drill down into sales, orders, salespersons, inventory, dispatches, order processing time related numbers – daily, weekly, monthly, quarterly & annually
Reports on Mobile
360 Degree Customer View
360 Degree Product View
Sales, Dispatch, Inventory, Salesperson Reports
Compare Data from Two Periods

To conclude, such a software can really help grow your business in many ways- by driving sales with lesser human intervention and an error free order management. Help delight your customers with order updates and help you make smarter data driven decisions.